Defining the Problem


This iconic make-up brand was founded in the 80s by make-up artists for the makeup artist. It was born at a time when self-expression and the counter culture movement was taking shape and became the voice and soul of the party of non-conformists.. This brand's make-up artists were professional and creative authorities, defining new make-up trends backstage at big fashion shows while valueing all who had something to say through their creative self-expression - no matter the race, age or sex. Fast-forward to today's hyper competitive beauty market and this brand's message has become less powerful and practically irrelevant. A new era of creative self-expression and artistry is upon us and with the changing times, this brand needs to evolve while staying true to it's founding principles. My team was assigned to create ain immersive journey of discovery for the client that would ultimatley unlock insights, trends and opportunities that would ladder up to a completely refreshed brand vision and framework.



Finding a Design Solution


I was tasked to create an impactful and immersive visual experience for a multi-day session. These visuals set a design tone that was distinct from The Brand's identity and defined the direction for our final deliverable. The final deliverable is a book which tells an inspiring and action oriented story of this brand's past and future - how it can successfully and strategically evolve into a relevant and powerful brand once again.



Because our clients are highly visual, creative and expressive folks, we decided to take some of our core methodologies and tools and blow them out over 2 days of impactful inspiration, conversations and fresh ideas. We created an immersive walking gallery where I designed boards featuring near-in and far-out trends and relevant social listening measuring 8' in height.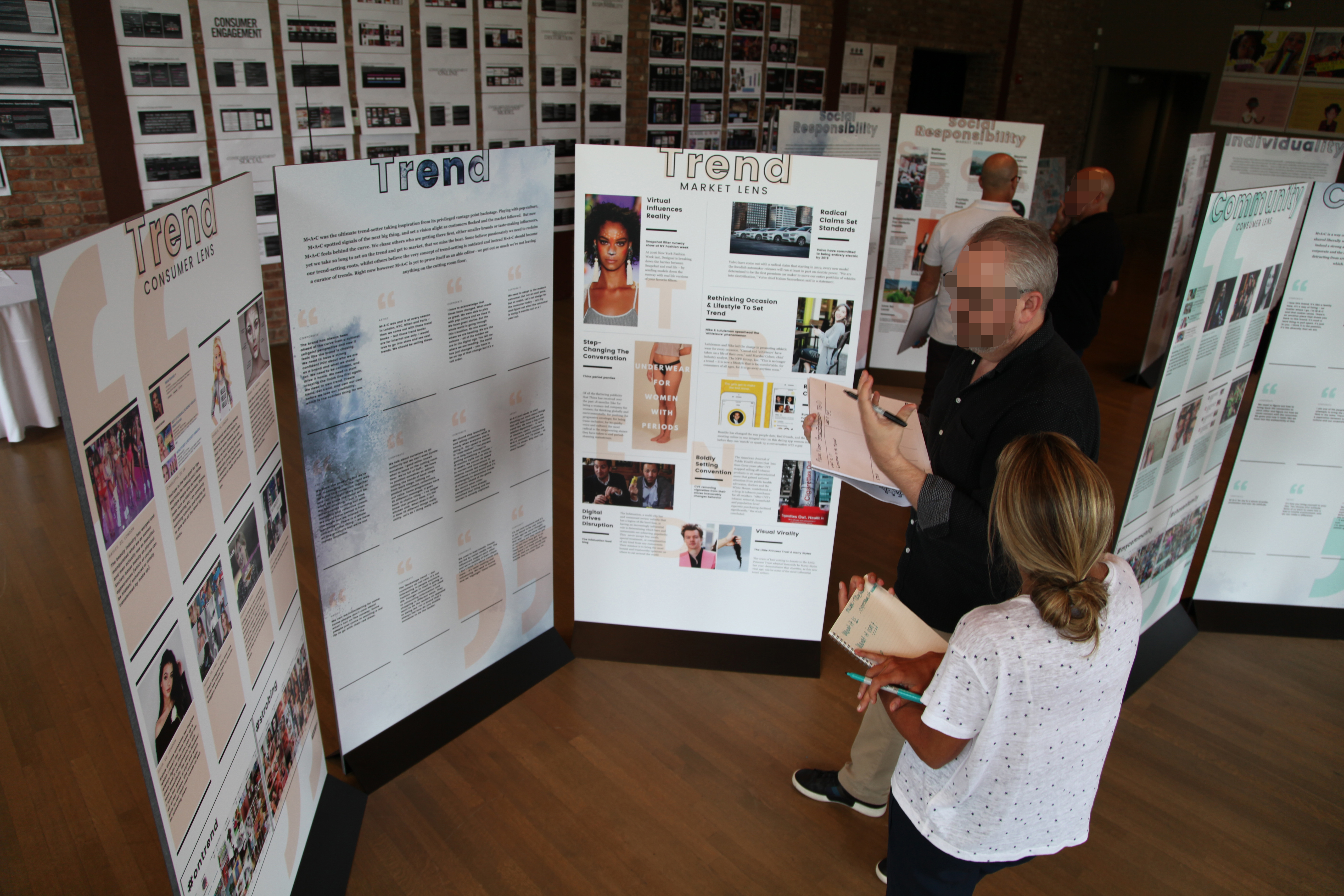 Clear direction on the design of the book was given by the client: I could not use any photographs or create a design style that felt like past or future Brand ad campaigns. They didn't want us to dictate or suggest any creative direction over how their new brand vision would be expressed. I chose to visually support our new brand positioning recommendation and story of discovery with expressive geometric shapes and graphics. The color palatte I chose was much softer than their current brand, which in effect, balanced the bold and highly expressive type.



I designed a set of 6 icons to represent the new Brand values. The final deliverable and other print collateral were delivered in gift bags printed with these icons.